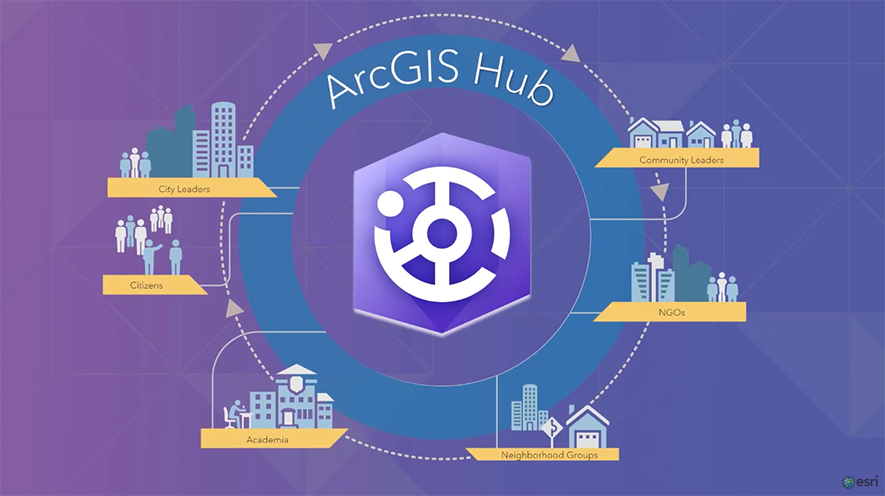 City of Tucson GIS Users now have access to ArcGIS Hub, a website building application that extends our Open Data Sites capabilities to include two-way communication between site developers and users. For those unfamiliar with Open Data Sites, check out our new Tucson Delivers page, designed using Open Data Sites to keep Tucson's citizens updated on progress made toward Bond Initiatives. 
Like Sites, Hub exists within our ArcGIS Online platform and is designed to work well with GIS data and other ArcGIS Online applications such as Dashboards, Web AppBuilder, and Story Maps.  It is designed to promote key initiatives by centralizing a given project's maps, apps, data, and media. This emphasis on specific initiatives or projects means that Hub should be thought of as an addition to, not a replacement for, the City of Tucson website and Department pages. 
One of the key distinctions between Hub and our previous technology, Open Data Sites, is that Hub allows the public to sign up with their own Hub Community account. This enables citizens and collaborative institutions to interact with and create content through surveys, crowdsourcing, discussions, notifications, events, or by creating and sharing their own maps and analyses—whatever mechanism makes sense for your project.  This evolution of the application will be a valuable tool for departments and teams seeking input from the public on the services they're providing.  Furthermore, it creates a collaborative space ideal for organizing internal-facing projects.  In this capacity, Hub can help keep your team on the same page by curating project-related content, the result of which can then serve as a visual aid during meetings and presentations.
To learn more about Hub, read about it here on ESRI's website. 
GIS Services is excited to put Hub in action in Tucson. To get started working with GIS Services to create your own Hub, email GIS Services at GIS_IT@tucsonaz.gov.